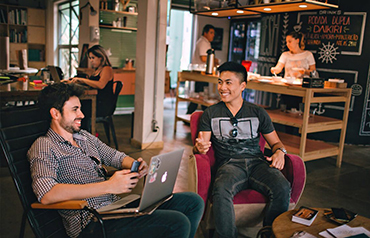 Did you ever consider working in a place like this one? Generally speaking, it represents working in a neutral place with individuals who are doing different projects, but also with groups who are working on the same project.
This model brings a lot of gains that makes it perfect for the entrepreneurs.
Coworking rise
The advantages you have as an entrepreneur are already known – you are your own boss, you have flexible working hours, you choose your workspace, your cost is reduced – so to speak, you have more money in your pocket. Statistics show that the number of the independent entrepreneurs is increasing constantly, therefore by the year of 2027 over 50% of American workforce will be doing jobs like freelancing, part-time jobs, or independent entrepreneurship.
The increase of independent entrepreneurs has brought us to the explosions of demands for co-working spaces.
Working from home can have good and bad sides. Before all, it can influence your productivity if your focus is interrupted by your environment and your family. In case if working from home is not your cup of tea and in the same time, you cannot afford a classical office, it is maybe time to consider a co-working space.
Perfect for startupers
The rent of a typical workspace demands signing a contract for five years, in most of the cases the deposit is required, and to break up a contract may be difficult and expensive. On the other hand, in a co-working space you can rent your place for a month, or even for a week. This space is ideal for startup entrepreneurs who are looking for a professional spot without expenses and long-term obligations. And, it is important to say that prices can vary, which depends on different factors:
The price is higher if the space is located in a first-class building, and that includes all the comfort you need: a parking place, a security, coffee bars, gyms etc.
Also, the prices differ if you want to have your own desk or a mutually desk. And the most expensive option is your own separated office.
Additional benefits are: twenty-four hours approach to the co-working office, conference rooms, a receptionist, a mail delivery, a relaxation zone, showers, snacks, discounts from the co-working partners and much more.
Chances for learning, improvement and cooperation
Co-working offers you a flexible and professional workspace that stimulates your efficiency. It can also connect you with people who can become relevant to you. Do you maybe need a web designer, a help with bookkeeping, a photographer for your next event or a specialist for the social networks and its marketing campaign? Think about it, the experts you need are maybe one desk far from you.