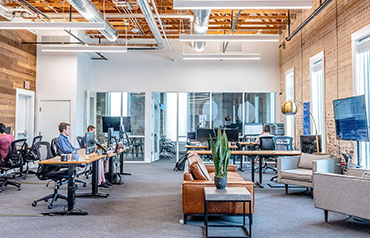 In the last few years, the co-working concept is more and more popular all over the world. But what does this mean, exactly?
For a long time there was a common opinion that co-working is meant for individuals who just started their business as freelancers or startups and who share the same space. But today – it gathers businessmen with different professions who are finishing their work in this kind of ambiance. New jobs, technologies and the internet have brought new possibilities that go beyond typical conditions, such as being attached to one place and who made this transition – from traditional to modern co-working space.
Why? The advantages of co-working are multiple: flexible working hours, meeting people who are working on same projects and finding potential clients. Nowadays big names like Instagram, Uber, Timeshop were born in places like these.
Networking
Today, using a  co-working space represents much more. The fact that you are working in a place surrounded with people from all around the world and from different branches gives you a lot of opportunities to find a new associate or a client. By having that possibility to talk during a lunch or a coffee break, can bring you a lot of personal contacts, but also business contacts.
Conveniences
Co-working spaces are well equipped. The modern interior design and the technologies are contributing to the everyday motivation, but also attracting new employees. As an employee, you can rent an individual place or an office, and enjoy every single benefit there: excellent internet connection, high-tech conference rooms, post deliveries, relax areas, fresh tea and coffee.
It is important to underline one more thing and that is the location, so your co-workers and potential clients will have the opportunity to visit you in any moment.
Inspiring environment
Traditional offices can be monotonous, so our inspiration is not on a level we expect. Co-working spaces have a dynamic atmosphere, so our creativity and new ideas are just flourishing.
Sometimes the only thing that we need to change is our working place.
The co-working ambiance supports creativity, exchanging ideas with other people and getting close with them. For that reason, many other companies are deciding to relocate their teams so they can learn from startups and some smaller companies, also try some new approaches and solutions concerning their work.