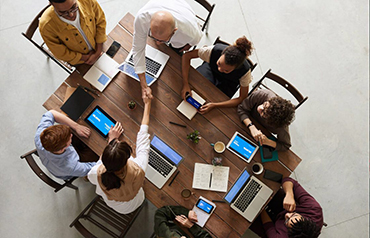 It is a fact that most of the successful startupers have modest inceptions. We have already heard the story about the genius founder who begana  business in his garage or his basement, actualized their idea, found a partner and went to conquer the world.
In the early phase of your company it is fine to work from a garage or a basement. But at one moment that should change.  You cannot forever have appointments at the restaurants or coffee bars. Also, at some point working from home will decrease your productivity, not to mention the distractions made by TV, family, kids or pets.
These problems that working from home can cause, could be easily escaped if you decide for a coworking spot.
Co-working spaces are not just enormous spaces with chairs, desks, and good internet connection. These spaces are made to be exciting and to boost your productivity.
In a typical co-working surrounding you will see entrepreneurs in jeans operating on their laptops. There is always coffee and pastry, and you can always order lunch at the reception desk.
The advantages of co-working are many if you have a startup company.
Building relationships
Relationships can definitely help you and your startup. In the beginning you won't have resources to hire a lot of people in your team, so in that case you will hire freelancers who will carry out the majority of work. In co-working spaces, you can find freelancers who can help you with web design, internet marketing or accounting. Actually, you have a whole team at your fingertips to create your own company.
Make a good impression
Before you start with your business, the clients will ask to meet you and talk about it. A meeting with clients in the conference room is much more professional than in a coffee bar, isn't it? Also, you can always meet your clients in another co-working space near them.
With co-working it won't happen that you miss an appointment because you don't have an appropriate place. Co-working space gives to entrepreneurs all kind of office services, including conference or meeting rooms.
Connect with your ideas and find clients
Your next client can be found, and your next idea can be born in a place like this one. They are excellent for startupers and they are perfect for developing their skills. The spaces are created in such a way to encourage new ideas and what is the most important, have minimal expenses.
Most of the places have flexible possibilities for memberships. You can rent a space for a day or for a few months, depending on what you need.